November 12, 2011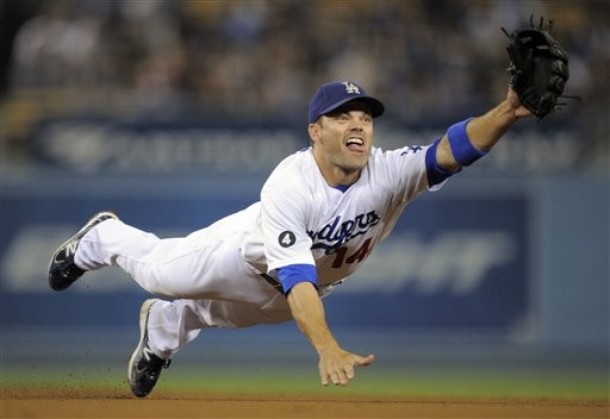 Terry Ryan's first significant move in his second go-around as general manager was to fill the Twins' gaping middle infield hole by signing Jamey Carroll to a two-year, $7 million contract. In assessing inexpensive shortstop options last week in this space I endorsed offering Carroll a one-year deal. Handing out multi-year contracts to 38-year-old middle infielders generally isn't a smart idea, but the money is reasonable enough and for 2012 at least Carroll is a good fit.
Carroll was stuck in the minors until age 28 and began his big-league career as a utility man, but he's gotten better and expanded his role with age. He's coming off the two best seasons of his career at ages 36 and 37, batting .290 with a .368 on-base percentage in 279 games for the Dodgers while posting a strong 122-to-98 strikeout-to-walk ratio, going 22-for-26 stealing bases, and splitting time between shortstop and second base.
Carroll's power is non-existent, with 12 homers in 1,065 games and an Isolated Power of .070 that ranks third-lowest among all active players with at least 2,000 plate appearances ahead of only Cesar Izturis and Juan Pierre. Obviously a middle infielder with power would be ideal, but the Twins botched that with J.J. Hardy and Carroll's on-base skills stand out. In fact, his .356 OBP ranks seventh among all active middle infielders with 2,000 plate appearances:
Derek Jeter         .383
Hanley Ramirez      .380
Chase Utley         .377
Dustin Pedroia      .373
Yunel Escobar       .366
Troy Tulowitzki     .364
JAMEY CARROLL       .356
Ian Kinsler         .355
Carlos Guillen      .355
Rickie Weeks        .354
That's some pretty great company for Carroll and his OBP during the past four seasons is even higher at .362, including yearly marks of .359, .379, .355, and .355. And he doesn't just get on base, he grinds out long at-bats too. Carroll saw 4.28 pitches per plate appearance this year, which tied Jose Bautista for sixth in all of baseball, and he also ranked fifth in 2010 and ninth in 2009. That's remarkable patience considering pitchers aren't afraid to throw him strikes.
Ron Gardenhire goes out of his way to bat a middle infielder No. 2 in the lineup whether they have a decent OBP or not, so the fact that Carroll actually gets on base, takes tons of pitches, and makes tons of contact is a nice bonus. He's also a right-handed batter who's hit .292 with a .371 OBP versus left-handed pitching during the past three seasons, making Carroll a nice fit breaking up the left-handed bats of Denard Span, Joe Mauer, and Justin Morneau.
Signing a middle infielder whose primary strengths are working counts and getting on base is a big step in the right direction for the Twins and Carroll's on-base skills are legitimately good, not just good compared to other middle infielders. For instance, he's posted a higher on-base percentage than Michael Cuddyer in each of the past four years. With that said, Carroll's lack of power is certainly an issue and both his age and defense are concerns on a two-year deal.
Apparently the Twins plan to use Carroll as their everyday shortstop and he's never done that before, although he did make 105 starts and log 1,078 innings at shortstop over the past two seasons. He also graded out as exactly average during that time according to Ultimate Zone Rating. Of course, for a 38-year-old average can quickly turn into below average and very few shortstops throughout baseball history have remained strong defenders at Carroll's age.
Age also puts him at risk for a rapid decline at the plate, particularly since speed and hand-eye coordination are major factors in Carroll's offensive game. Zero power is easy to live with in a solid defensive shortstop with a .350 on-base percentage, but if Carroll's range and OBP slip he'll either have to shift to second base with Alexi Casilla sliding back to shortstop or move to a bench role for which he'd be overpaid.
This isn't a signing that will excite an already frustrated fan base and if father time catches up to Carroll the Twins will regret giving him a two-year contract, but he's been worth significantly more than $3.5 million per season in each of the past four years, has shown no sign of decline so far and is better at 38 than he was at 28, has been on the disabled list once in 10 seasons, and kills two birds with one stone as a middle infielder and No. 2 hitter.