September 6, 2012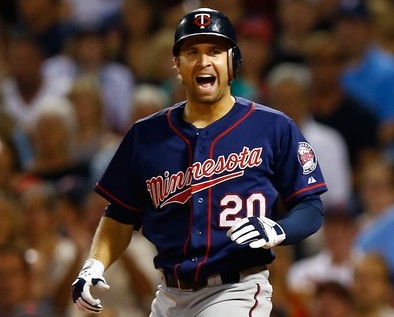 • As of September 1 rosters can expand from 25 to as many as 40 players, but the Twins waited until September 4 to do so and then called up just two players: Eduardo Escobar and Luis Perdomo. Escobar is a light-hitting 23-year-old middle infielder who was acquired from the White Sox in the Francisco Liriano trade and hit just .217/.259/.304 with a 26-to-8 strikeout-to-walk ratio in 35 games at Triple-A following the deal.
Perdomo is a 28-year-old journeyman reliever who was signed as a minor-league free agent back in November and began this season at Double-A before moving up to Triple-A. Between the two levels he threw 73 innings with a 2.60 ERA and 68-to-22 strikeout-to-walk ratio, and Perdomo also got a five-game stint with the Twins earlier this season in which he walked seven in six innings. He throws hard, but has iffy control and a 4.07 career ERA at Triple-A.
• Apparently those are the only planned additions for the entire month, which means players on the 40-man roster not getting call-ups include Brian Dozier, Deolis Guerra, Jeff Manship, Pedro Hernandez, and Oswaldo Arcia. Dozier's lack of a call-up is the most surprising, because when the Twins demoted him to Triple-A last month the assumption was that he'd definitely be back once rosters expanded.
Instead he was a mess in Rochester, hitting just .171 with a 16/3 K/BB ratio in 20 games to continue the troubling lack of strike-zone control he showed in the majors. Combined between Triple-A and the majors Dozier hit .233 with a .276 on-base percentage and .334 slugging percentage while striking out 92 times compared to 30 walks. Plenty of prospects bounce back from a terrible season, but the difference with Dozier is that he's already 25 years old.
• And then there's Anthony Slama, who as usual posted amazing numbers at Triple-A and as usual is ignored by the Twins. Slama finished his fourth consecutive season in Rochester with a 1.24 ERA, .195 opponents' average, and 56 strikeouts in 36 innings, giving him a lifetime 2.27 ERA and 191 strikeouts in 154 innings at Triple-A. Slama is 28 years old, so whatever career he was capable of having has been wasted because the Twins wouldn't give him a chance.
For his minor-league career Slama has a 1.99 ERA and 12.4 strikeouts per nine innings, racking up more than twice as many strikeouts (446) as hits allowed (213) in 325 innings. Maybe he would have struggled against big-league hitters, but the Twins will never know because they repeatedly left Slama in the minors to rot. This year that involved giving Jeff Gray five months and 50 innings to show that his lengthy track record of mediocrity wasn't a fluke.
• Denard Span was finally placed on the disabled list after staying on the Twins' active roster for 18 days with a shoulder injury that allowed him to play just four games during that time. Rather than another rant about the Twins' medical staff I'll focus on the fact that Span's injury opens the door for Chris Parmelee to get an extended opportunity down the stretch after mostly sitting on the bench for a month last time he was in the majors.
Parmelee certainly deserves a chance after hitting .338/.457/.645 with 17 homers, 17 doubles, and a 52-to-51 strikeout-to-walk ratio in 64 games at Triple-A, but as I wrote three weeks ago without a trade or an injury there wasn't anywhere for him to play. It's interesting that the Twins are using Parmelee in right field because he figures to be below average there and played zero innings in the outfield for Rochester.
• This year's Arizona Fall League participants are out and the Twins are sending Kyle Gibson, Michael Tonkin, Logan Darnell, Caleb Thielbar, Chris Herrmann, Nate Roberts, and Evan Bigley. Going to the AFL is a way for Gibson to get some work in after missing most of the season following last year's Tommy John surgery and a strong performance there could give him at least some chance to compete for a spot in the Twins' rotation next spring.
Gibson, Herrmann, and Roberts each cracked my list of the Twins' top 40 prospects heading into the season and Tonkin will definitely be on the 2013 list after breaking out between two levels of Single-A. This will be Herrmann's second trip to the AFL, as he was part of the Twins' contingent there last year along with Dozier, Aaron Hicks, Cole DeVries, Scott Diamond, Dakota Watts, Brett Jacobson, and Bruce Pugh.
• Lester Oliveros pitched well enough in the minors this season to emerge as a bullpen option for 2013, but now the hard-throwing right-hander will likely miss all of next year after Tommy John elbow surgery. Acquired from the Tigers in last season's Delmon Young trade, Oliveros threw 48 innings with a 2.42 ERA and 51-to-15 strikeout-to-walk ratio between Double-A and Triple-A at age 24 and has (or at least had) a legitimate mid-90s fastball.
• As the Twins appear headed for another top-five draft pick it's worth noting that the 2013 draft class, much like the 2012 draft class, is viewed as lacking elite-level talent. Keith Law's early ESPN rankings include Mark Appel in the top spot after the Stanford right-hander fell to No. 8 and turned down $3.8 million to go back to school, followed by Arkansas right-hander Ryne Stanek, Stanford outfielder Austin Wilson, and Indiana State left-hander Sean Manaea.
• After bludgeoning the White Sox for 18 runs Tuesday night the Twins rank fourth among all MLB teams in games with double-digit runs scored this season, yet they rank just 13th in overall runs per game. When the Twins score double-digit runs they're 13-0. In all other games they're 43-81 while averaging 3.6 runs per game.
• Jamey Carroll snapped the majors' longest homerless streak Monday, going deep off White Sox starter Hector Santiago for his first home run in 1,540 plate appearances dating back to August 9, 2009. In between Carroll long balls Jose Bautista led the majors with 134 homers, seven players homered at least 100 times, and 93 players homered at least 50 times.
• Parker Hageman of Twins Daily used video and numbers to examine Joe Mauer's struggles throwing out runners this season.
• Ben Revere is now hitting .300 with a .690 OPS, which would make him the first player since Lenny Randle in 1974 to hit .300 or higher with an OPS below .700. Aside from Revere and Randle no other .300 hitter has posted a sub-.700 OPS since 1943.
• In the comments section of my post last week about Darin Mastroianni's future several people wondered if he could be an option at second base after seeing some time there in the minors, but Ron Gardenhire has already shot that idea down pretty thoroughly.
• For a lot more about September call-ups, Dozier, Slama, and the Twins' medical staff check out this week's episode of Gleeman and The Geek (which is back to being fueled by beer).
Interested in sponsoring a week of AG.com? Click here for details.