September 22, 2014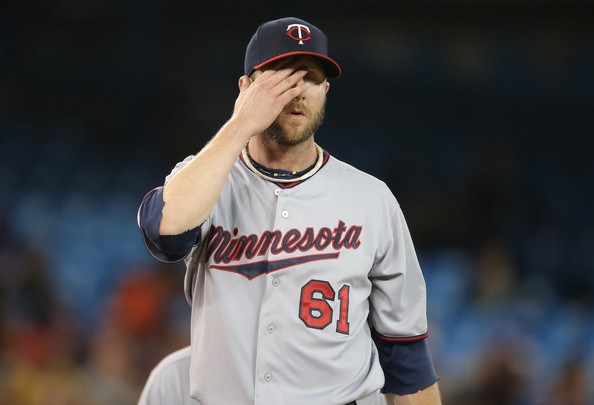 At the beginning of each offseason every team goes through the ritual housecleaning of shedding players from the 40-man roster to prepare for a winter of adding new players and protecting new prospects. As one of baseball's worst teams for a fourth straight year the Twins have no shortage of dead weight on the 40-man roster, plus plenty of marginal talents clinging to spots, so here's my breakdown of the players most likely to be shed and where they stand (in alphabetical order):
A.J. Achter: Added to the 40-man roster in September after a nice season between Double-A and Triple-A, the former 46th-round pick debuted at age 26. His success this season was driven largely by an unsustainably great batting average on balls in play and Achter's control has never been particularly good, which along with a high-80s fastball and unspectacular strikeout rates makes him unlikely to project as more than a middle reliever.
Doug Bernier: Last year the Twins called up Bernier to fill a little-used bench role and dropped him from the 40-man roster after the season, which is presumably the plan again this time. He had a solid season at Triple-A, hitting .280/.348/.396 in 124 games, but Bernier is 34 years old and the epitome of a replacement-level player. Great to have stashed at Triple-A, not great to have in the majors or even taking up a spot on the 40-man roster.
Jared Burton: One of the Twins' better scrap-heap pickups, Burton was a high-end setup man for a year-and-a-half before struggling down the stretch last year and showing major signs of decline this season. Dating back to August of last season Burton has a 5.12 ERA and 50/28 K/BB ratio in 72 innings. His velocity is down, he's ceased missing bats, and at age 33 it's hard to see him being trusted enough in a high-leverage role to justify picking up his $3.6 million option for 2015.
Chris Colabello: He was a good story and absolutely deserved a shot in the majors after crushing Triple-A pitching, but Colabello hit .214/.284/.364 with a ghastly 124/34 K/BB ratio in 114 games. He has no defensive value and, unlike most right-handed hitters, his approach at the plate doesn't lend itself to crushing left-handers. At age 31 it's tough to imagine giving him another extended opportunity, especially considering the Twins' depth at first base and designated hitter.
Logan Darnell: It's tough to see Darnell sticking in the big leagues as a starter. He has a 3.82 ERA with a poor strikeout rate and mediocre control in 172 innings at Triple-A, his average fastball so far in the majors is 89 miles per hour, and he struggles against right-handed hitters. At age 25 he may still have a future in the bullpen, but the same could be said of nearly every left-handed starter and there isn't much in his track record to suggest his upside there is notable.
Brian Duensing: It's masked by a strong ERA, but Duensing's secondary numbers collapsed with a 32/20 K/BB ratio in 53 innings. His inability to handle righties means he can't be trusted in the late innings and he's not dominant enough against lefties to be a southpaw specialist. Duensing is a perfectly decent middle reliever, but at age 31 and with an arbitration-fueled raise to at least $3 million coming for his final pre-free agency season he's a non-tender candidate.
Eric Fryer: Tabbed to fill the Drew Butera role as a catcher who can't hit enough to warrant a roster spot, Fryer took over as Kurt Suzuki's backup when the Twins demoted Josmil Pinto to the minors. He's hit .248/.325/.345 in limited MLB action, which is actually much better than his .217/.314/.316 line in 204 games at Triple-A. Even if the Twins are convinced Pinto has no future behind the plate they can do better than Fryer as a second (or third) catcher.
Chris Herrmann: In theory Herrmann brings versatility to the table as a catcher/outfielder, but the Twins want nothing to do with him behind the plate defensively and he doesn't hit enough to have any business in the outfield. He's hit .184/.256/.268 in 91 games for the third-worst OPS in the Ron Gardenhire era of 2002-2014, ahead of only Butera and Tsuyoshi Nishioka. And at age 27 his .262/.331/.399 line in 129 games at Triple-A is barely any better.
Kris Johnson: Acquired from the Pirates as part of the Justin Morneau trade, it was never clear why the Twins wanted Johnson unless they focused on his misleadingly good 2.39 ERA at Triple-A last season. He posted another decent-looking 3.48 ERA at Triple-A this year, but managed just 102 strikeouts in 132 innings while walking 3.8 per nine frames. Johnson is 30 years old with 6.2 strikeouts and 3.5 walks per nine innings for his career at Triple-A.
Eduardo Nunez: When the Twins acquired Nunez they talked up his offensive potential as if he hadn't hit .267/.313/.379 for the Yankees or had similar numbers in the minors. He's been even worse for the Twins, hitting .251/.274/.385 in 67 games. Ultimate Zone Rating pegs him as one of the worst shortstops in baseball at 30 runs below average per 150 games and he's looked shaky at third base as well. It's unclear where exactly the upside is with the 27-year-old Nunez.
Lester Oliveros: He hasn't looked good in the majors yet, but Oliveros put together an excellent season between Double-A and Triple-A in his first full year back from Tommy John elbow surgery. He struck out 88 batters in 66 total innings, posting a 1.64 ERA while allowing zero home runs. His control remains spotty, but with a mid-90s fastball and outstanding strikeout rates Oliveros seems deserving of an extended chance. It's just unclear if he'll get that in Minnesota.
Chris Parmelee: Since his big September debut Parmelee has hit .237/.303/.372 in 248 games for the Twins, showing mediocre power while failing to control the strike zone. Good numbers at Triple-A suggested the former first-round pick may have finally figured things out, but he's failed to do anything with semi-regular playing time in three straight seasons and will soon be 27 years old. Why keep waiting for what might be, at best, an average first baseman/corner outfielder?
Mike Pelfrey: Re-signing Pelfrey to a two-year, $12 million deal never made any sense and he allowed 23 runs in 24 innings before being shut down with an elbow injury. He's owed $5.5 million next season, so Pelfrey being cut loose would be a surprise, but he's 12-29 with a 5.00 ERA in 390 innings since 2011, throws one mediocre pitch, and injuries have wiped out two of his last three seasons. He's a sunk cost, but perhaps they can salvage some value out of Pelfrey in the bullpen.
Yohan Pino: When he was a prospect posting great numbers in the minors from 2005-2009 the Twins never called up Pino, but they finally gave him a chance as a 30-year-old journeyman in his second stint with the organization. Pino had an ugly 5.07 ERA in 11 starts and struggles to limit home runs, but his 50/14 K/BB ratio in 60 innings was solid. As the past four seasons have shown there's always plenty of need for rotation depth, but elbow problems cloud his status for 2015.
Ryan Pressly: After spending all of last year in the majors as a Rule 5 pick Pressly spent most of this year at Triple-A, throwing 60 innings with a 2.98 ERA and 63/21 K/BB ratio. He throws hard, but it has never led to big strikeout rates and Pressly has just 63 strikeouts 102 innings for the Twins. He has a nice-looking 3.54 ERA and the Twins have been to known to let that sway their opinion more than it should, but at age 26 it's tough to see significant upside.
Stephen Pryor: Acquired from the Mariners in the Kendrys Morales swap/salary dump, Pryor is one of the few players on the 40-man roster not to receive a September call-up. He was once a top reliever prospect with a high-90s fastball, but he's struggled to regain velocity after shoulder surgery. He posted a 3.93 ERA at Triple-A with awful control and just 52 strikeouts in 55 innings. Still just 25 years old, presumably the Twins liked Pryor enough to see what he looks like in 2015.
Jordan Schafer: It seems unlikely that the Twins would get rid of Schafer after how well he's played in 40 games since they claimed him off waivers in early August, but he's the type of player who regularly gets dropped from 40-man rosters. Schafer is a 27-year-old career .230/.312/.311 hitter who also batted just .225/.278/.294 at Triple-A and despite great speed he's a mediocre defensive center fielder. He's a decent fit as a backup outfielder, but that skill set is plentiful.
Anthony Swarzak: After flopping as a starter Swarzak found a fit as a long reliever able to soak up low-leverage innings, but his effectiveness slipped this year and he's due for a raise to around $2 million via arbitration. Swarzak's strikeout rate of 5.2 per nine innings ranks 125th out of the 131 pitchers with at least 50 innings as relievers and his career rate as a reliever is 5.8 per nine innings. His role could be better utilized to break in a young starter.
Aaron Thompson: His flukishly good numbers versus lefties this season caught the Twins' eye and earned him a call-up, but Thompson is a 27-year-old journeyman with a high-80s fastball and a 4.33 ERA in a decade as a minor leaguer. That includes a 3.52 ERA and 107/51 K/BB ratio in 120 innings at Triple-A. Like most reasonably effective lefties he could probably hold his own in a southpaw specialist role, but the Twins should be aiming higher for a Duensing replacement.
---
This week's blog content is sponsored by Uber, which is offering a free ride to first-time users who sign up with the promo code "UberGleeman."