March 28, 2013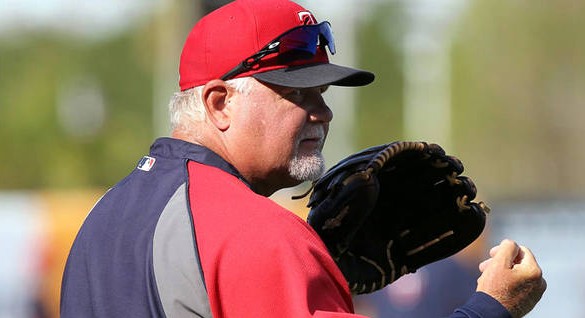 • Barring any changes between now and Monday here's what the Twins' roster looks like:
   

LINEUP:

                    ROTATION:
C  Joe Mauer               RH Vance Worley
1B Justin Morneau          RH Kevin Correia
2B Brian Dozier            RH Mike Pelfrey
SS Pedro Florimon          RH Liam Hendriks
3B Trevor Plouffe          RH Cole De Vries
LF Josh Willingham
CF Aaron Hicks                BULLPEN:
RF Chris Parmelee          LH Glen Perkins
DH Ryan Doumit             RH Jared Burton
                           LH Brian Duensing
   BENCH:                  RH Casey Fien
IF Jamey Carroll           RH Josh Roenicke
IF Eduardo Escobar         RH Ryan Pressly
OF Darin Mastroianni       LH Tyler Robertson
OF Wilkin Ramirez
If the above 25-man roster sticks there will be a total of 11 holdovers from last season's Opening Day roster: Joe Mauer, Justin Morneau, Josh Willingham, Ryan Doumit, Chris Parmelee, Trevor Plouffe, and Jamey Carroll among position players and Glen Perkins, Jared Burton, Brian Duensing, and Liam Hendriks among pitchers.
• Scott Diamond's elbow problems opened the door for Samuel Deduno to get back into the rotation, but a groin injury suffered during the World Baseball Classic shut that door. Deduno, who was dropped from the 40-man roster and passed through waivers unclaimed four months ago, will head to Triple-A. Cole De Vries, who unlike Deduno is on the 40-man roster, is set to join Vance Worley, Kevin Correia, Mike Pelfrey, and Hendriks in the season-opening rotation.
De Vries held his own in 14 starts as a 27-year-old rookie last season, but he was an emergency call-up when the rotation was wrecked by injuries and has a 4.39 ERA with just 6.7 strikeouts per nine innings in 156 innings at Triple-A. De Vries throws strikes and as an Eden Prairie native who went undrafted out of the University of Minnesota he's a good story, but he's likely to serve up a ton of homers and turning to him already is a bad sign.
• Alex Burnett stuck around in the majors far longer than his performance warranted, spending nearly three full seasons in the Twins' bullpen despite a 4.61 ERA, sub par control, and just 5.6 strikeouts per nine innings. On the surface his 3.52 ERA last season may have looked like a big step forward, but it came with a horrible 36-to-26 strikeout-to-walk ratio in 72 innings and the Twins smartly didn't let his experience keep them from sending Burnett to Triple-A.
Barring late additions Burnett's demotion to Rochester means that the four bullpen spots after Perkins as closer and Burton and Duensing as his primary setup men will go to Casey Fien, Josh Roenicke, Ryan Pressly, and Tyler Robertson. Pressly is the biggest surprise after the Twins opted not to keep Rule 5 picks in the majors in both 2011 and 2012, but he throws hard and they clearly like how he's looked since shifting from starter to reliever late last season.
I'm glad Fien is getting another shot after looking good in 35 innings last season. He has a solid enough track record in the minors to think he can be a useful middle man. Roenicke was claimed off waivers from the Rockies in November and has shown the durability to soak up innings, but poor control and sub par strikeout rates aren't an encouraging combo. Rafael Perez not being ready yet following shoulder surgery made it pretty easy for Robertson to be the third left-hander.
Perkins and Burton put the Twins in good shape for the eighth and ninth innings, but beyond that duo Fien, Roenicke, and Pressly from the right side and Duensing and Robertson from the left side isn't particularly promising. Anthony Swarzak, who likely would have made the team as a long reliever, and Tim Wood, who was in the mix for one of the final bullpen spots, will both begin the season on the disabled list.
• Last offseason the Twins signed outfielder Wilkin Ramirez to a minor-league deal and sent him to the minors without any fanfare after he hit .214 in 10 spring training games. He played most of the season at Triple-A and did little to distinguish himself, hitting .276/.316/.451 with 15 homers and an ugly 97-to-18 strikeout-to-walk ratio in 98 games. He became a free agent and re-signed with the Twins on another minor-league deal. And now Ramirez is on the Opening Day roster.
What changed between then and now to make a 27-year-old journeyman with an underwhelming decade-long track record and awful plate discipline worth a roster spot in the majors? Ramirez has had a good spring, hitting .444 with nine doubles in 16 games. And that's basically it. Last year at this time no one gave him much thought and his play in Rochester didn't warrant a call-up, but 45 good at-bats convinced the Twins he's the man for the job.
It doesn't matter much, because backups on last-place teams aren't exactly of vital importance and the Twins failed to bring in many superior options, but trusting 50 plate appearances in spring training over 4,000 plate appearances in the minors generally isn't a sound approach to decision-making and Ramirez is an odd pick to replace Drew Butera following Ron Gardenhire's call to "beef up" the bench. He's a career .255/.310/.430 hitter at Triple-A.
• Mike Berardino of the St. Paul Pioneer Press crunched the numbers and calculates the Twins' payroll at $81 million, which is the lowest since it was $65 million during the final season at the Metrodome in 2009. In their first season at Target Field the Twins spent $98 million and in Year 2 that rose to $113 million, but the payroll dropped to $94 million in Year 3 and now it's well below MLB average. Not quite the pattern fans were hoping for throughout the new ballpark push.
• Friend of AG.com Dan Szymborski predicted the American League standings for ESPN.com based on his excellent ZiPS projection system and not surprisingly the Twins are bringing up the rear in the AL Central at 66-96. Only the Astros have a worse projected record in the AL.
• This week's "Gleeman and The Geek" episode featured a whole bunch of Aaron Hicks talk.
---
This week's blog content is sponsored by Territory Train, which takes the heavy lifting out of planning and executing Twins road trips. Please support them for supporting AG.com.