September 11, 2013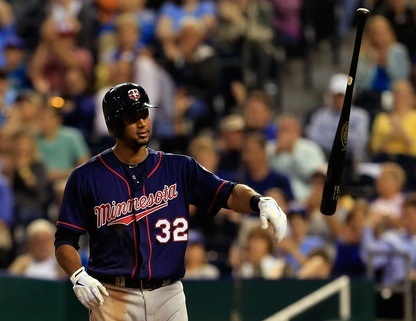 • Rochester's playoff run ended Sunday at Triple-A, so the Twins made seven September call-ups after initially not adding reinforcements. Eduardo Escobar, Chris Parmelee, Scott Diamond, and Michael Tonkin return after playing for the Twins previously this season and Cole De Vries is back in Minnesota for the first time this year after spending much of last season in the Twins' rotation, leaving Shairon Martis and Eric Fryer as the surprising call-ups.
Fryer is a 28-year-old journeyman catcher with 2,081 plate appearances in the minors compared to 34 plate appearances in the majors. He hit just .219/.339/.365 in 65 games for Rochester and is a career .208/.312/.313 hitter at Triple-A, but with Joe Mauer on the disabled list recovering from a brain injury and the Twins apparently no longer as willing to use Ryan Doumit behind the plate they wanted another catcher around for the final three weeks.
Martis is a 26-year-old right-hander who spent most of last season and all of this season in the Twins' farm system after being signed to a minor-league deal. He was a full-time starter until this year, shifting to the bullpen in Rochester and throwing 80 innings with a 4.26 ERA and 65-to-31 strikeout-to-walk ratio. There is absolutely nothing about his performance that stands out, this season or in past seasons, so aside from "they just wanted an extra arm" his call-up is odd.
My assumption is that Fryer and Martis will be dropped from the 40-man roster immediately after the season, in which case adding them now has no real impact aside from not giving those same temporary spots to more deserving options this month. De Vries also seems likely to be dropped, along with a handful of other names as part of the annual season-ending purge. Tonkin is the only call-up in the group with big upside, although certainly some people still believe in Diamond.
• As for who the Twins didn't add, the healthy players on the 40-man roster who haven't joined the team are Aaron Hicks, Trevor May, Danny Santana, and B.J. Hermsen. Of that group only Hicks' lack of a call-up is at all surprising, because May, Santana, and Hermsen all spent the season at Double-A and Hermsen was bad enough to potentially be dropped from the roster soon. Hicks, meanwhile, was the Opening Day center fielder and spent four months in the majors.
Hicks was terrible following an August 1 demotion to Triple-A, hitting .221/.317/.333 with zero homers and a 21-to-10 strikeout-to-walk ratio in 22 games to continue a miserable season that began with the Twins shoving aside development and service time considerations by rushing him from Double-A to the majors at age 23. Of course, Parmelee hit just .231/.318/.370 in 45 games at Triple-A following his midseason demotion and still got a September call-up.
• I dug through the minor-league records back when the Twins promoted Byron Buxton from low Single-A to high Single-A in late June and found that he was one of just six teenagers in the past 30 years to post an OPS of .975 or higher in the Midwest League:
Byron Buxton       2013     .990
Javier Baez        2012     .979
Oscar Taveras      2011    1.028
Mike Trout         2010     .979
Alex Rodriguez     1994     .984
Larry Walker       1986    1.011
After the promotion to high Single-A he played 57 games for Fort Myers, hitting .326/.415/.472 with 23 steals. Here's a list of all the teenagers in the past 30 years to post an OPS of .875 or higher in the Florida State League:
Byron Buxton       2013     .887
Jesus Montero      2009     .989
Giancarlo Stanton  2009     .968
Joel Guzman        2004     .899
Nick Johnson       1998    1.004
Adrian Beltre      1997     .967
So during the first half of the season Buxton did something only five other players have done in the past 30 years and then during the second half of the season Buxton did a different thing only five other players have done in the past 30 years. Overall he hit .334/.424/.520 with 55 steals, 49 extra-base hits, and 76 walks in 125 games between two levels where the average pitchers were 23 years old. He doesn't turn 20 until mid-December. Buxton is a bad, bad man (or kid, I guess).
UPDATE: Right on cue, Baseball America just announced that Buxton is their minor league player of the year, joining Mauer in 2003 as the only Twins to win the award.
• Sunday afternoon Oswaldo Arcia batted fourth for the first time in his career, making his debut in the cleanup spot at 22 years and 122 days old. He's the youngest player to bat cleanup for the Twins since Mauer did it at 22 years and 88 days old in July of 2005 and Justin Morneau did it at 22 years and 26 days old in June of 2003. Here's the complete list of every Twins hitter to bat cleanup before turning 23:
Kent Hrbek        156
Butch Wynegar     101
David Ortiz        44
Justin Morneau     12
Tom Brunansky      12
Joe Mauer           6
Steve Brye          6
OSWALDO ARCIA       3
Don Mincher         1
Butch Wynegar, one of the biggest phenoms in team history, was the youngest Twins cleanup hitter at 20 years and 63 days old in May of 1976. In fact, the 90 youngest instances of a Twins hitter batting cleanup all belong Wynegar and then the 91st spot is Tom Brunansky at 21 years and 266 days old. Steve Brye is the odd man out on that list, batting cleanup six times for the Twins as a 22-year-old in 1971 despite going on to be a career .258/.309/.365 hitter.
• After missing all of last season and the first five months of this season following Tommy John elbow surgery Scott Baker finally made his 2013 debut Sunday for the Cubs. He'd been very ineffective while rehabbing in the minors, but Baker tossed five shutout innings against the Brewers in his first start since August 8, 2011. He'll be a free agent again this offseason.
• There was some talk of the Twins being in the mix for Cuban infielder Alexander Guerrero, but he ended up signing with the Dodgers for $32 million.
• While looking up some stats I stumbled across this tidbit: In their respective Double-A careers Michael Jordan (.289) had a higher on-base percentage than Drew Butera (.287).
• Ron Cook of the Pittsburgh Post Gazette wrote an interesting column about Morneau's first two weeks with the Pirates and how he relates to Penguins star Sidney Crosby.
• For a lot more on Buxton's great season, plus talk about Mauer's concussion, Josmil Pinto's hot start, and Trevor Plouffe's future, check out this week's "Gleeman and The Geek" episode.
---
Interested in sponsoring a week of AG.com and advertising your product, service, local business, or website directly to thousands of readers each day? Click here for details.