December 10, 2014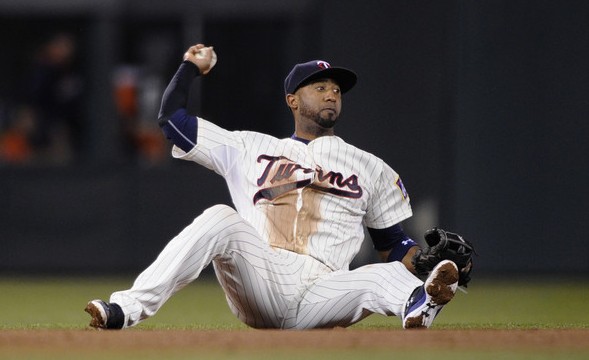 • Faced with seven arbitration-eligible players, the Twins tendered 2015 contracts to everyone but Anthony Swarzak. Cutting ties with Swarzak makes sense given his lack of upside and mediocre performance in a low-leverage role, but in previewing their arbitration-based decisions last month Tommy Milone, Brian Duensing, and Eduardo Nunez also struck me as potential non-tender candidates. Instead they kept all three at a projected combined salary of around $6.5 million.
Nunez in particular seems to serve little purpose given that he's 27 years old and hits like a utility infielder without actually being able to play defense like one. His projected $1.2 million salary is inconsequential, but it's hard to imagine the Twins not being able to find a better use of a roster spot. Trevor Plouffe and Casey Fien were no-brainers to keep and rightly or wrongly the Twins probably felt retaining Jordan Schafer for around $1.5 million was an easy call as well.
In keeping six of the seven arbitration-eligible players and signing Torii Hunter for $10.5 million the Twins have around $90 million committed for 2015 based on guaranteed contracts, projected arbitration salaries, and minimum salaries needed to fill out the roster. That's already more than they spent in 2013 or 2014 and there's been little indication that a large increase in spending is planned for 2015. And the roster also looks relatively set barring trades.
• In the wake of the Hunter signing Terry Ryan was asked again about defensive statistics and again downplayed their importance while reiterating that the Twins rely on their eyes to evaluate defense. Meanwhile, in losing 90-plus games each year from 2011-2014 the Twins' defense was 98 runs below average according to Ultimate Zone Rating, 107 runs below average according to Plus/Minus, and 115 runs below average according to Defensive Runs Saved.
Ryan repeatedly saying the Twins need to pitch better and repeatedly denying the Twins' defense has been awful is a weird, frustrating disconnect. Their outfield defense rated particularly poorly, yet when asked about that Ryan scoffs at the numbers and insists guys like Josh Willingham were perfectly adequate. He also scoffed at the numbers all rating Hunter as 15-25 runs below average during the past two seasons, saying:
I saw him, I think, maybe seven games or so [in 2014]. His defense for me was more than adequate. He's not the type of guy that you're going to say, "Oh, he can go over there and play center for a length of time," but I would guarantee you he could go out and play center field for a couple days and you wouldn't really miss too much. ...

You can use the metrics or you can use the eye, and you should use both. In this instance, I think we've seen him play probably 30-35 games as an evaluation process this year, and for the most part the lowest grade we had on him was average range. That's pretty good.
Twins scouts watched Hunter for 30-35 games and graded him average or better defensively, so that's what Ryan and the front office relied on rather than trusting the defensive numbers that all agree he was somewhere between bad and horrendous. By the way, Hunter had about two balls hit to him per game this year, so evaluating his defense based on watching 30-35 games is like evaluating a hitter based on watching 60-70 at-bats.
It's one thing to pay little attention to defensive numbers if your scouting department is doing an amazing job evaluating defense with their eyes, but in the Twins' case that seemingly hasn't been true for a while now. Ryan saying "I would guarantee you he could go out and play center field for a couple days and you wouldn't really miss too much" about a 39-year-old Hunter is crazy talk and the type of thing that makes me question a whole lot about the Twins behind the scenes.
• To round out Paul Molitor's coaching staff the Twins hired Butch Davis as first base coach. He spent 20 years coaching in the minors for the Orioles and joins pitching coach Neil Allen as the only coaches without previous Twins ties. Tom Brunansky and Joe Vavra were with Molitor on Ron Gardenhire's staff, Gene Glynn was Rochester's manager, Rudy Hernandez coached 14 years in the organization, and Eddie Guardado pitched 12 years for the Twins.
• According to Darren Wolfson of 1500-ESPN the Twins reached out to fired Cubs manager Rick Renteria about becoming Molitor's bench coach, but "he rejected the overture immediately" and they eventually settled on Vavra. And according to Bob Nightingale of USA Today they wanted to hire Delino DeShields first base coach, but he chose instead to manage at Triple-A for the Reds and the job went to Davis.
• Chris Colabello was dropped from the 40-man roster and claimed off waivers by the Blue Jays. He followed up a big April for the Twins by slumping horribly and getting demoted to Triple-A, and Colabello later admitted that he played most of the season with a significant thumb injury. At age 31 and with little defensive value it's hard to fault the Twins for giving up on Colabello after he hit .214/.284/.364 with a 124/34 K/BB ratio in 114 games.
• Shane Robinson agreed to a minor-league deal with the Twins after spending the first nine years of his career in the Cardinals organization. Robinson has good speed and enough range to handle center field defensively, but he's hit just .231/.303/.308 in 452 plate appearances spread over parts of five seasons in the majors. He's shown a bit more offensive promise at Triple-A, but at age 30 he's strictly a backup option in what currently looks like a crowded outfield.
• Danny Santana played mostly center field as a rookie despite never playing there regularly in the minors, but Molitor indicated that the Twins view him as an infielder for 2015. That seemingly makes them more likely to pursue center fielders in trades and free agency--Schafer, Robinson, and Aaron Hicks are the current in-house options--and could mean Eduardo Escobar is headed for a bench role after being an above-average starting shortstop in 2014.
• Willingham, whom the Twins traded to the Royals in August for minor leaguer Jason Adam, announced his retirement at age 35. Willingham had a great first year in Minnesota, but ended up hitting .232/.353/.446 and missing 116 of a possible 440 games for the Twins during a three-year, $21 million contract. Helluva career, though. Despite not getting his first extended chance in the majors until age 27 he posted an .823 OPS with 195 homers in 1,147 games.
• Francisco Liriano, who posted a 3.20 ERA with 338 strikeouts in 323 innings for the Pirates during the past two years, re-signed for three years and $39 million. By comparison, the Twins have Ricky Nolasco signed for another three years and $37 million.
• Hunter debuted for the Twins on August 22, 1997 by pinch-running for Terry Steinbach in a loss to the Orioles. In that game Molitor was the Twins' designated hitter, batting third versus Baltimore starting pitcher Scott Erickson.
• This week's "Gleeman and The Geek" episode was recorded at Sociable Cider Werks and we talked Hunter, Hunter, and more Hunter.
---
This week's blog content is sponsored by Uber, which is offering a free ride to first-time users who sign up with the promo code "UberGleeman."