June 25, 2013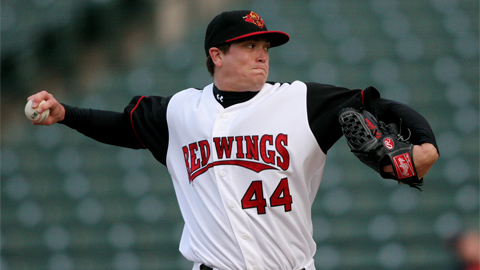 • It took Mike Pelfrey going on the disabled list with a back injury, but the Twins finally called up Kyle Gibson from Triple-A. Gibson will start Saturday at Target Field against the Royals, making his debut four months before his 26th birthday and nearly 22 months after undergoing Tommy John elbow surgery in 2011. He'll be the ninth different pitcher to start a game for the Twins this season, which shows the lengths they went to avoid calling up Gibson.
He leaves Rochester having thrown at least six innings in seven consecutive starts, posting a 2.20 ERA and 41-to-16 strikeout-to-walk ratio in 49 innings over that span. Overall in 15 starts there Gibson had a 3.01 ERA and 79-to-28 strikeout-to-walk ratio in 93 innings, holding opponents to a .229 batting average and four homers in 371 plate appearances. His age and modest strikeout rate keep Gibson from being an elite pitching prospect, but he's plenty good and very ready.
Gibson has never missed a ton of bats, but the 6-foot-6 right-hander throws harder than a typical Twins starting pitcher and has a chance to post an above-average strikeout rate in the majors. His main strength is keeping the ball out of the air, with 57 percent ground balls and just 16 homers in 210 career innings at Triple-A. To put that in some context, only four MLB starting pitchers have a ground-ball rate above 55 percent this season. If things go well he has No. 2 starter upside.
• Gibson is presumably in Minnesota to stay, which could get tricky because of a team-imposed innings limit in his first full season back from surgery. It's been tough to nail down specifics on Gibson's workload cap, but it's likely somewhere around 130-150 innings and he's already thrown 93 innings at Triple-A. If he started every fifth day for the rest of the season he'd be in line for 17 starts and even at just five innings per outing that's 85 innings. He'd fly past any limit.
Gibson sticking around for good would also require dumping someone from the rotation whenever Pelfrey returns from the DL. Pelfrey could be that someone considering he's signed to a one-year deal and has a 6.11 ERA in 14 starts, but P.J. Walters would also be an obvious candidate to dump. Walters imploded Saturday against the Indians, failing to make it out of the first inning, and now has a 5.42 ERA in 18 starts for the Twins.
Walters has a 6.06 ERA in 144 total innings as a major leaguer, which is about what you'd expect from a 28-year-old with a 4.45 ERA in 597 innings at Triple-A. There's little in his lengthy track record to suggest more than a replacement-level starter. He was acquired on a minor-league deal last offseason, passed through waivers unclaimed shortly after the season, and then re-signed on another minor-league contract.
• Two weeks after promoting Miguel Sano from high Single-A to Double-A the Twins promoted Byron Buxton from low Single-A to high Single-A. Buxton wound up playing 68 games for Cedar Rapids and stuffed the stat sheet by hitting .341/.431/.559 with eight homers, 33 total extra-base hits, 32 stolen bases, and a 56-to-44 strikeout-to-walk ratio, which is incredible production from a 19-year-old center fielder in a league where the average player is 22.
As of the promotion Buxton led the Midwest League in on-base percentage, slugging percentage, total bases, triples, and runs. He also ranked second in batting average and third in walks, steals, and RBIs. It doesn't get any better for a stud prospect's first exposure to full-season competition and as Jeff Johnson of the Cedar Rapids Gazette pointed out Buxton's performance looks a lot like what Angels superstar Mike Trout did as Cedar Rapids' center fielder back in 2010:
            PA     AVG     OBP     SLG    HR   XBH    BB    SO    SB
Trout      388    .358    .452    .514     6    32    45    76    45
Buxton     320    .341    .431    .559     8    33    44    56    32
It's worth noting that Trout was 18 when he played for Cedar Rapids and Buxton is 19, but those numbers are close enough to make me grin from ear to ear. Trout got promoted to high Single-A for the second half of 2010, crushed Double-A to begin 2011, and made his MLB debut that July at 19. And now he's the best player in baseball. None of which means Buxton is destined to become the next Trout, but so far at least he's walking in Trout's footsteps.
• Here's a complete list of all the teenagers with an OPS of .975 or higher in the Midwest League during the past 30 years:
Byron Buxton      2013     .990
Javier Baez       2012     .979
Oscar Taveras     2011    1.028
Mike Trout        2010     .979
Alex Rodriguez    1994     .984
Larry Walker      1986    1.011
Six total players in 30 seasons. Buxton, Oscar Taveras, and Javier Baez are currently among the top 20 prospects in baseball, Trout is the best player in baseball at age 21, Alex Rodriguez is a three-time MVP with 647 career homers, and Larry Walker is a three-time batting champ with an MVP. Buxton has a long way to go, but doing what he just did as a 19-year-old in the Midwest League is special.
• For years I wrote about how frustrating it was that the Twins refused to give Anthony Slama an extended opportunity in the majors despite extraordinary numbers in the minors and now it's too late. Slama is nearly 30 years old and injuries have started to pile up, causing him to struggle for the first time this season at Triple-A and leading to the Twins releasing him. Not exactly how I envisioned the whole "Free Anthony Slama" campaign ending.
Prior to this year Slama had a 1.99 ERA and 12.8 strikeouts per nine innings in six seasons as a minor leaguer, including a 2.27 ERA and 11.1 strikeouts per nine innings at Triple-A. And yet for all that dominance in the minors the Twins saw fit to give him a grand total of just seven innings in the majors, relegating him to Triple-A for parts of five seasons before finally cutting him loose as a shell of his former self.
It's a real shame, not because Slama was capable of being an elite reliever but because he was certainly deserving of a chance to show that he was at least capable of being a useful part of a major-league bullpen. His raw stuff didn't match his incredible numbers, but Slama threw in the low-90s just like plenty of other successful relievers and the Twins have given bullpen jobs to all sorts of awful pitchers over the years. I'll never understand why they ignored him.
• In the past week Twins vice president of player personnel Mike Radcliff and St. Paul Pioneer Press beat reporter Mike Berardino have separately compared Oswaldo Arcia to Bobby Abreu. Both players are relatively short and stocky left-handed-hitting corner outfielders from Venezuela, which may be where a lot of the comparison stems from, but in terms of actual skill sets Arcia and Abreu are very different.
Abreu was among the most disciplined hitters of his era, drawing 100 walks eight seasons in a row, at least 70 walks every year from 1998 to 2011, and the 22nd-most walks of all time. He even averaged 80 walks per 150 games between Double-A and Triple-A. Meanwhile, if Arcia has one clear weakness as a hitter it's his lack of strike zone control. He has 40 strikeouts versus 12 walks in the majors after posting a 92-to-44 strikeout-to-walk ratio at Double-A and Triple-A.
Abreu was also a good base-stealer, with at least 20 steals in 13 straight seasons and 399 career steals at a 76 percent success rate. Arcia has 29 steals in 449 pro games and has been caught 22 times. There's no doubt that Arcia has huge long-term upside and Twins fans should be thrilled if he's anywhere near as valuable as Abreu, who played 17 seasons and hit .292/.396/.477 with 300 homers, 400 steals, and 4,000 times on base. But stylistically any comparison seems forced.
• Just like Buxton last year, No. 4 pick Kohl Stewart signed with the Twins just two weeks after the draft. He agreed to the exact slot bonus recommendation of $4,544,400 and will begin his pro career in the rookie-level Gulf Coast League. Of the Twins' top 15 picks only second-rounder Ryan Eades, fifth-rounder Aaron Slegers, and eighth-rounder Dustin DeMuth are unsigned and all three are expected to agree to deals eventually.
• Two weeks ago I wrote about Triple-A center fielder/on-base machine Antoan Richardson and he hasn't slowed down. Richardson is now hitting .317/.454/.413 with 58 walks and 29 steals in 71 games between Double-A and Triple-A, raising his career on-base percentage to .404. As a 29-year-old journeyman with little power he's not exactly a hot prospect, but a switch-hitter with good speed and a .450 OBP seems worth giving an opportunity to at some point.
• Nearing the midway point of the season the Twins are 10-2 against the Brewers and White Sox compared to 24-36 versus every other team, which is probably the most fun way to be 34-38.
• Joe Mauer has scored 53 percent more runs than anyone else on the Twins. He's on pace for 103 runs. No one else is on pace for more than 68.
• Pitching staff walks: Twins 193, Tigers 197. Pitching staff strikeouts: Twins 424, Tigers 701.
• MLB.com headline: "Phillies remaining patient with Delmon Young."
• For a lot more about Gibson's call-up, Arcia's upside, and Richardson's on-base skills check out this week's "Gleeman and The Geek" episode.
---
This week's blog content is sponsored by Curt's Salsa, a locally owned salsa company that believes in fresh ingredients and rooting for the little guy. Please support them for supporting AG.com.