April 3, 2015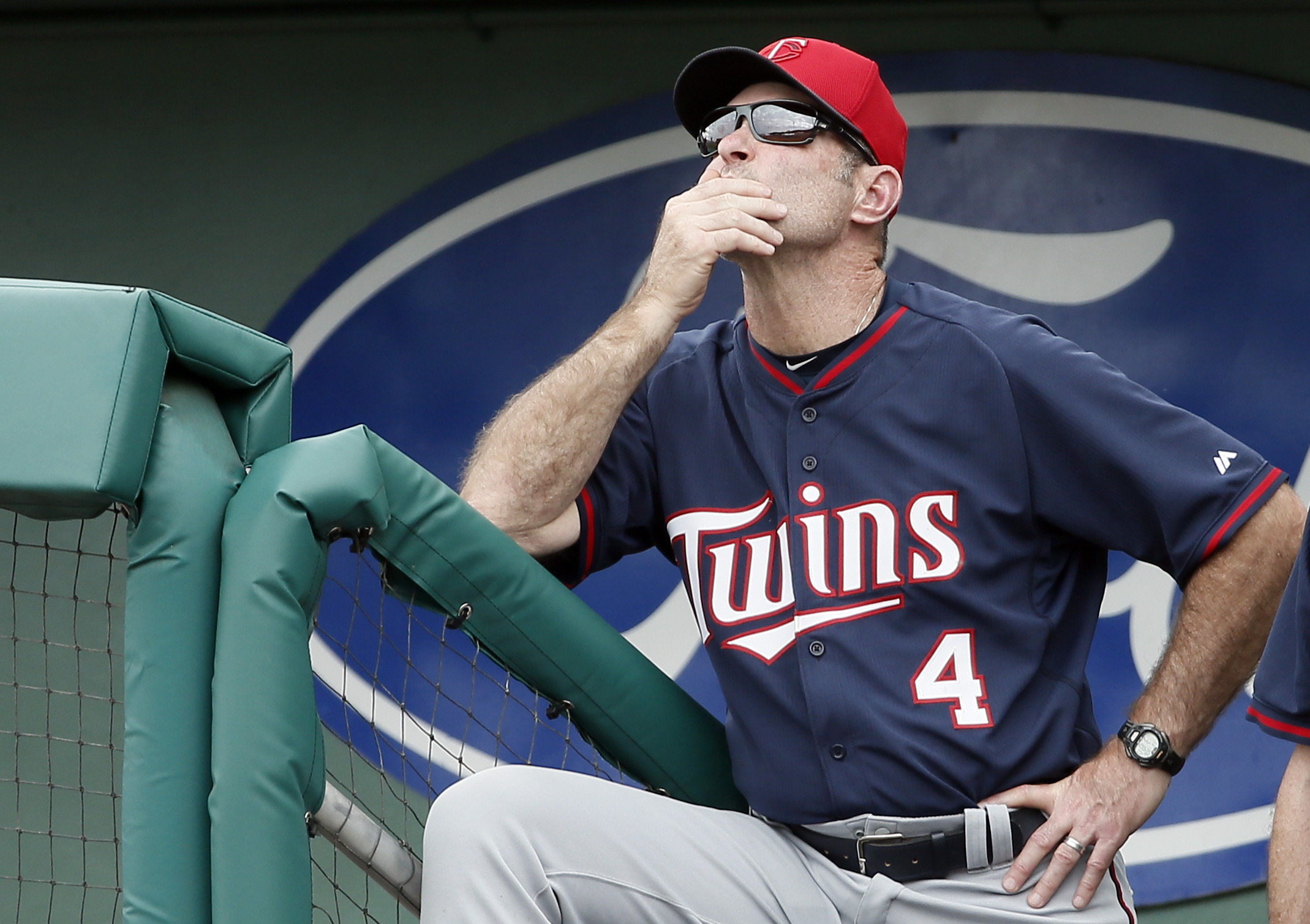 Nearly everyone involved with the Twins, from players and new manager Paul Molitor to general manager Terry Ryan and owner Jim Pohlad, seems convinced the team is poised to take a big step forward. Nearly everyone not involved with the Twins, from national writers and Las Vegas oddsmakers to numbers-driven projection systems and cranky local bloggers, seems convinced the team is headed for another last-place finish and possibly a fifth straight 90-loss season.
Sports Illustrated picks the Twins for last place and 67 wins. ESPN.com picks the Twins for last place and 68 wins. Baseball Prospectus projects the Twins for last place and 71 wins. Bovada sets the Twins' over/under win total at 72.5. FanGraphs projects the Twins for last place and 74 wins. Grantland picks the Twins for last place and "under 75 wins." CBS Sports picks the Twins for last place. Yahoo Sports picks the Twins for last place. You get the idea.
Last year the Twins were 72-90. Then they fired Ron Gardenhire after 13 seasons as manager, handed out the largest free agent contract in team history to 32-year-old Ervin Santana at $55 million over four years, brought back Torii Hunter for a $10.5 million reunion at age 39, signed 33-year-old reliever Tim Stauffer for $2.2 million, and bypassed young talent in favor of veteran mediocrity for every roster spot up for grabs in spring training.
Those are all the moves of an organization that's sick of losing and also sick of their plummeting fan morale and season ticket sales. They spent big on veterans and further delayed the arrival of prospects, leading to an Opening Day roster with just four players who're 25 years old or younger in shortstop Danny Santana, left fielder Oswaldo Arcia, designated hitter Kennys Vargas, and Rule 5 pick J.R. Graham.
This is a rebuilding team in the sense that the Twins have been very bad and are still attempting to get back on track, but it's anything but a young team. Kyle Gibson is the youngest member of the starting rotation at 27. Graham is the only member of the seven-reliever bullpen under 30. Six of the nine starting position players are at least 28. In terms of their collective average ages, the rotation is 30, the bullpen is 31, and the lineup is 29.
When the reality of the Twins' organizational collapse finally sunk in around mid-2012 or so the idea was that they'd be back to contending by now, but injuries ruined those plans. Joe Mauer's concussion derailed his career and turned him from a Hall of Fame-caliber catcher to a mediocre first baseman. Instead of making their MLB debuts Miguel Sano missed all of last year following elbow surgery and Byron Buxton missed all but 31 games with a wrist injury and a concussion.
Buxton and Sano will begin this season as teammates at Double-A, the Twins sent 25-year-old pitching prospects Alex Meyer, Trevor May, and Michael Tonkin back to Triple-A rather than trust them with roster spots that went to Tommy Milone, Mike Pelfrey, and Blaine Boyer, and after back-to-back Opening Day starts in center field Aaron Hicks is back in Rochester too. Toss in Arcia's development stagnating a bit and it's easy to see where the rebuild sputtered.
The good news is Buxton and Sano remain superstar-caliber prospects, Meyer and May still have enough upside to project as impact pitchers in some role, and there's another wave of prospects coming soon led by Jose Berrios, Jorge Polanco, and Nick Burdi. The bad news is none of that figures to actually help the Twins win many games before the All-Star break. Sadly, being a Twins fan in 2015 is still more about waiting for help to arrive than watching it play at Target Field.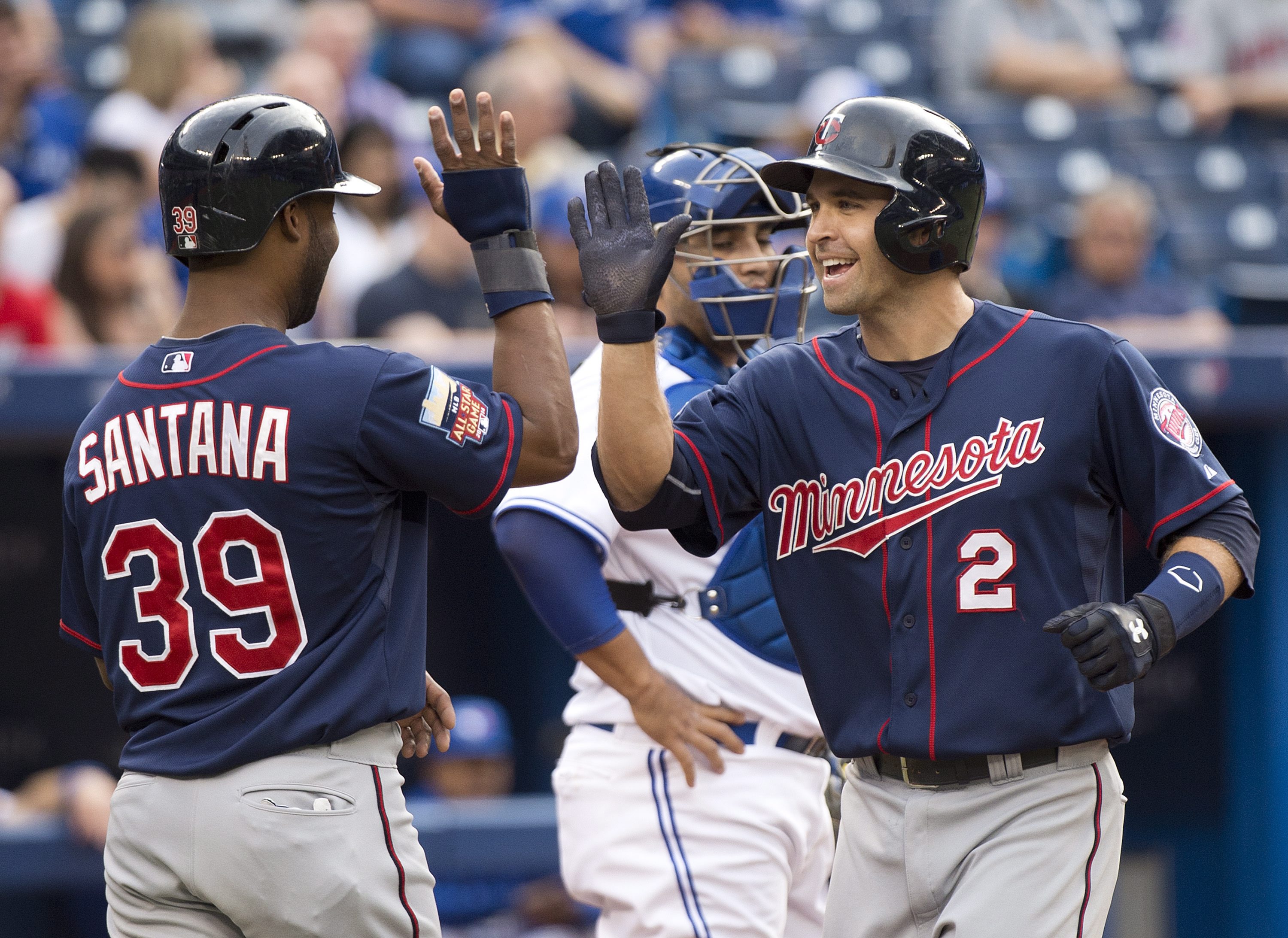 There's a lot of optimism surrounding the Twins' offense after the lineup produced the fifth-most runs in the American League last season, but building on or even duplicating that performance is hardly a sure thing. For starters, Santana was the only hitter on the team to crack an .800 OPS last season, coming out of nowhere to hit .319/.353/.473 as a rookie after batting .273/.314/.388 in the minors while failing to top a .725 OPS at Single-A, Double-A, or Triple-A.
Santana is good enough, young enough, and skilled enough to buy into reevaluating his upside compared to what his minor-league track record suggested, but his rookie success was still driven by an unsustainable .405 batting average on balls in play and came despite an ugly 98/19 K/BB ratio. The combination of a so-so track record, poor plate discipline, and a high batting average on balls in play makes him a prime regression candidate.
Brian Dozier also needs to fight his track record to show his 2014 was for real, albeit to a lesser extent than Santana. He was the Twins' best all-around position player, hitting .245/.345/.416 with 23 homers, 21 steals, 89 walks, and solid defense to rank among the top half-dozen second basemen in MLB. Clearly the Twins buy into Dozier's age-27 breakout, but prior to 2014 he hit just .240/.297/.384 in the majors and .232/.286/.337 at Triple-A.
Kurt Suzuki was another source of unexpectedly strong offense, hitting .288/.345/.383 to make his first All-Star team at age 30. As with Dozier the Twins bought into his resurgence with a new contract, but Suzuki hit .253/.313/.362 in the second half to resemble his measly .237/.294/.357 line from 2010-2013. Jordan Schafer's track record strongly suggests he'll be unable to repeat his 41-game Twins showing and Hunter is fighting father time at age 39.
All of which isn't to say the lineup lacks the ability to improve in spots. Mauer getting back to his usual self would be huge and he hit .300 with a .400 on-base percentage in his final 55 games. Arcia should take a step forward at age 24 and is capable of breaking out with a better approach. But for the most part more hitters are likely to decline than improve, some by wide margins. Of course, Buxton and Sano showing up in May or June ready to thrive could change everything.
Then there's defense, which has played an overlooked part in the Twins' struggles as the focus tends to be on the "pitching" rather than the run prevention of pitching plus defense. Combined from 2011-2014 the Twins ranked 28th in Ultimate Zone Rating at 90 runs below average and 24th in Defensive Runs Saved at 115 runs below average. They've been horrendous, especially in the outfield, which is doubly bad combined with fly-ball, strikeout-phobic pitching staffs.
Infield defense may not be bad because Dozier is solid at second base, Santana has the skills to be a plus shortstop, Trevor Plouffe showed big improvement at third base, and Mauer is fine at first base. However, the outfield is guaranteed to be a major weakness again. Arcia and Hunter were two of MLB's worst defensive corner outfielders last year and it's asking a lot of Schafer (or Hicks) to cover up their mess when he's actually gotten below average marks in center field.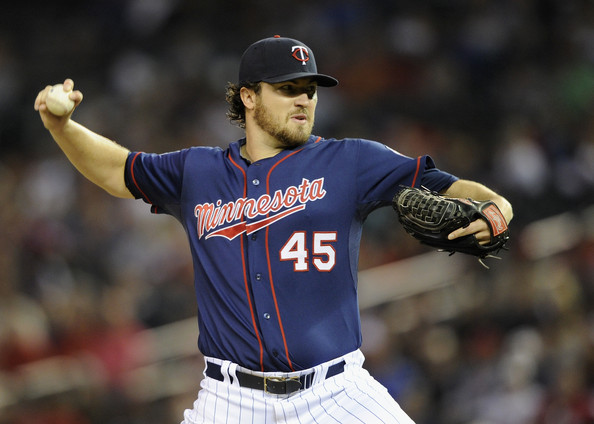 Last offseason the Twins gave a four-year, $49 million deal to Ricky Nolasco and a three-year, $24 million contract to Phil Hughes, and this offseason they took the uncharacteristic pursuit of free agent pitching even further by signing Santana for $55 million. Hughes got three years and $42 million tacked on to his previous deal following a breakout 2014 season and the Twins have Pelfrey and Milone under contract for a combined $8.5 million in 2015.
That's a lot of resources devoted to veteran starters and there's also a hidden cost that comes with having pitchers with guaranteed salaries locked into rotation spots that might otherwise be handed over to prospects. Hughes is signed through 2019, Santana is signed through 2018, Nolasco is signed through 2017, and even though Pelfrey and Milone aren't signed beyond this season the Twins were still hesitant to push them aside.
Hughes was a tremendous find on what was a very reasonable free agent contract that the Twins turned into a much bigger commitment. He logged 210 innings and pitched even better than his solid 3.52 ERA, striking out 186 and walking 16 for the best strikeout-to-walk ratio in the history of baseball. Asking for a repeat of that performance is wishful thinking, but Hughes seemed like a truly different pitcher last season and enters this year as a clear-cut No. 1 starter.
Santana was signed to take over the No. 2 spot and what he lacks in upside he makes up for in durability, although he's probably more of a No. 3 starter on a contending team. Nolasco looked like a No. 3 starter when the Twins gave him $49 million last offseason, but then pitched horribly for several months before revealing he was hurt and is now a question mark the Twins no doubt regret signing.
Gibson is the lone homegrown pitcher in the rotation and the former top prospect finally broke through last season to throw 179 innings in 31 starts. He was wildly inconsistent, but the end result was a 4.47 ERA in a league where the average starter was below 4.00. Inducing lots of ground balls helps Gibson make up for a lack of missed bats, but at age 27 and with just 5.4 strikeouts per nine innings his upside looks limited to the back of the rotation.
Milone beat out Pelfrey and May for the fifth spot and the soft-tossing left-hander will try to show that his awful post-trade performance for the Twins was due to a benign tumor in his neck that required surgery. Milone was a solid back-of-the-rotation starter for the A's, but Oakland's pitcher-friendly ballpark overstated his effectiveness and helped compensate for a mid-80s fastball. He has a 4.80 career ERA in non-Oakland ballparks.
If the goal was to put together a rotation less likely to be a disaster than the 2011-2014 versions the Twins absolutely accomplished that, but the price tags indicate they have much higher hopes and that may be pushing things. This is the worst rotation in the AL Central even if it's assumed Hughes will avoid turning back into a pumpkin and there isn't much upside unless Meyer and/or May hit the ground running soon. And compared to the bullpen the rotation is a strength.
Glen Perkins was one of the elite relievers in baseball for 3.5 seasons before melting down late last year while pitching through an injury. The bullpen desperately needs him to be his pre-injury self or things could get very ugly. Casey Fien is the primary setup man. Brian Duensing, who was a non-tender candidate, is the only lefty. Stauffer and Boyer have prominent roles and the Twins are hoping Pelfrey's one-pitch arsenal fits better in relief. It's an underwhelming group.
---
This should be the least-awful Twins team since 2010, but that's not saying much and confidence in even that mild statement dropped when they stacked the roster with Pelfrey, Milone, Duensing, Boyer, Schafer, Stauffer, Shane Robinson, Chris Herrmann, and Eduardo Nunez. That's a lot of self-imposed dreck for a team with better, younger options and there's a depressingly strong chance the same "are the Twins ready to stop losing?" question can be asked 365 days from now.